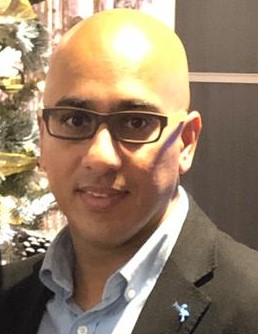 Saab Chhabra is an International Institute of Reflexology (IIR) certified Reflexologist and an American Council on Exercise (ACE) certified Health Coach, who obtained his Hand & Foot Reflexology certification in 2014 and his Health Coaching certification in 2016. He has a Master's in  Electrical Engineering from VA Tech, and is a husband and a father. A friend introduced him to Reflexology as a natural method of relieving lower-back pain. Upon noticing improvement in his own condition after several sessions of Foot Reflexology, he became interested in learning Reflexology to help himself as well as his family and friends. While Reflexology can help with numerous health issues, ultimately, it is combination of our healthy habits and lifestyle that dictate whether or not we see lasting results in our health. To be able to help clients make adjustments to their lifestyle to achieve their health goals, Saab also got certified as a professional Health Coach. Since becoming a Reflexologist and a Health Coach, he has developed expertise in natural and holistic ways to achieve good health through rest, relaxation, mindfulness, meditation, exercise, nutrition and other natural therapies that include both eastern and western philosophies on good health.
He is an avid reader of anything related to natural health, mind-body connection, and has training in certain other energy medicine therapies, which may be used as part of services offered. While he has read numerous books on science and engineering related fields, he has read more than a hundred books related to all these different natural and holistic health fields.
Additionally, Saab also enjoys playing and coaching basketball, playing tennis, football, cricket, golf, badminton and ping-pong.
Here's a short list of additional live training he has taken to improve his skills as a Reflexologist and a holistic Health Coach:
R.E.S.T (Release Emotional Stress & Tension)
Reflex-OIL-ogy Endocrine System Module
Therapeutic Medical Yoga: Learn and Restore
Busy Days Call for HIIT
Mind Body Agility Training
Low Back Health Begins with The Core
Nutrition Coaching: Changing Habits, Not Diets
Mindful Eating: The Future of Eating for Weight Loss
Athletic Performance for Sport and Life
TTT: Trauma Tapping Technique
Essential Skills in Comprehensive Energy Psychology
He is not a doctor; he does NOT diagnose NOR prescribe treatments for any diseases. You should consult your own health care provider to assess whether Reflexology, Aromatherapy, Health Coaching and any other adjunct therapies can be of any benefit to you or if they can pose any risk to you.
Sessions are provided at client-site (home or office) for Reflexology and Health Coaching, but with Health Coaching, you have an option to have your sessions over the phone/Skype/Zoom/WhatsApp (voice or video call). As a new client, please take advantage of the new-client specials, so book an appointment now!